Welcome to my homepage!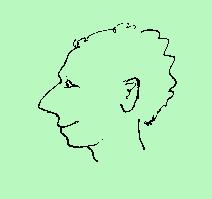 Friendly drawing by Angela Khaimovich.
I am my interests and Interest Map shows who I am. A couple of working papers elaborate on different parts of it. I will be glad to send you a copy on your request. One of the papers--"Some thoughts about impact of culture on learning"--is available online because it is loaded with calls for action and controversial ideas. I would like to know what you think about it. Also an abstract of my dissertation thesis is available on-line. Its title is "Toward a truly dynamic theory of problem-solving group effectiveness: Cognitive and emotional processes during the Root Cause Analysis performed by a Business Process Re-engineering team." Take a look at my resume, if you want to know how my interests have formed.

You are welcome to send me a note at: LK31415926@yahoo.com .

Thanks for your interest.
Last major revision made on May 11, 2005 - the birthday of Richard Feynman.